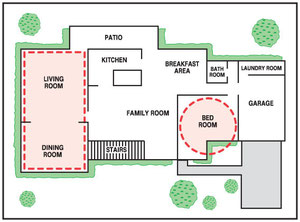 Most people only consider electronic pet containment for the outside. We have several options for the inside your home also.

Common indoor uses include

• Garbage cans
• Bedrooms
• Living/Dining rooms
• Kitchen counters
• Litter box area


The Room Wizard® wireless transmitter can protect an area as small as 2', and as large as 16'. The Room Wizard® exactly like the outdoor transmitter, and is completely compatible with the UltraElite® and UltaMax® receiver. The main drawback to using a wireless transmitter is the circular signal it transmits.

Sometimes we want to deny access to a large area, but still allow use of a hallway or door. In these cases we can discretely hard wire an area allowing for very precise adjustment of the signal over long straight runs.

The options for an indoor system vary greatly from house to house. If you'd like to schedule a free in-home consultation please don't hesitate to contact us.